Nosco, Inc., a subsidiary of Holden Industries, Inc., announced today that it will continue its flexible packaging leadership through a new certified child-resistant / senior friendly (CRSF) press-to-close offering utilizing Zip-Pack's Safety-Lok™ closure.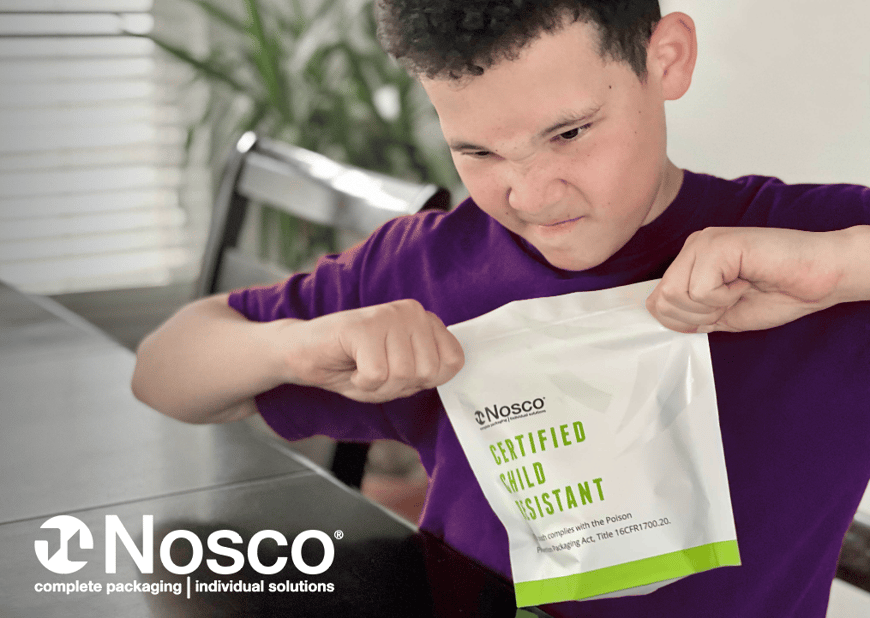 "We are proud to bring this new certified family of flexible packaging products to the market," said Steven Krueger, FlexPack Product Manager at Nosco. "Through the use of our third-party testing and certification processes, Nosco customers can tap into our in-house certification when selecting specific materials and zipper sizes for their consumer-sensitive flexible packaging projects."
Certified classifications are as follows:
Material: 3 Mil Nylon Laminate / 48 Gauge MET PET / 3 Mil LLDPE
Resealable CRSF Zipper Width Range: 5 Inches to 7.25 Inches Wide
Styles: Stand-Up Pouch and Sachet (Gusseted or Non-Gusseted)
Nosco's certified child-resistant flexible packaging offering is not only third-party tested, but also meets the Poison Prevention Packaging Act, Title 16CFR1700.20 and ISO 17065 Standards. These standards work to prevent the accidental ingestion of potentially harmful substances – making Nosco's flexible packaging offering ideal for pharmaceuticals, natural health products and consumer packaged goods alike.
The Safety-Lok™ CRSF zipper offers an intuitive one-step opening experience that provides adequate deterrence for children, while allowing convenient access for the intended end consumer. The innovative, resealable design is ideal for products that contain multiple doses or servings within.
FLEXIBLE PACKAGING MADE EASY
Nosco is making flexible packaging easy. From quick turns to standard material offerings, Nosco has the experience and technology to help make your packaging successful. Plus, as the only U.S. provider that offers digital cartons, labels and flexible packaging – customers can lean on Nosco's team of experts for all of their printed packaging needs.
Nosco is a proud member of the Flexible Packaging Association, and all materials are printed and converted in the USA. Click the link below to learn more or get in touch with one of Nosco's flexible packaging experts.