Nosco was recently honored by the Tag and Label Manufacturers Institute, Inc. (TLMI) with the

Elevation Converter Award in its Calvin Frost Sustainability Awards

in Colorado Springs, Colorado. The Elevation Converter Award recognizes companies that have made a significant impact in the packaging industry with sophisticated in-house sustainability programs. Craig Curran, Nosco President, accepted the award on behalf of Nosco's team of employee owners.
"Nosco has long been focused on sustainability, safety and ethics – all of which have been core to how we manage our business," said Curran. "As an organization, our employee owners strive to continuously improve and lead in the printed packaging space. The journey is challenging but rewarding."
Over the past three years, Nosco has worked diligently to enhance its sustainability initiatives, resulting in previous recognitions including the TLMI Trailhead Award in 2021 and the TLMI Journey Recognition Award in 2022. Through the addition of the TLMI Elevation Converter Award, Nosco hopes to highlight its growth within the sustainability space and packaging industry alike.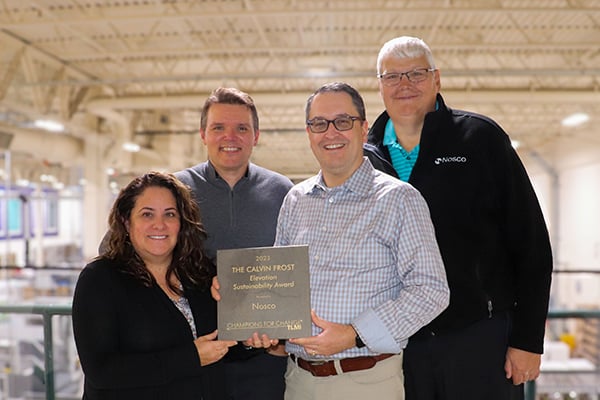 "As an organization, we provide printed packaging that helps our customers save lives, promote health and encourage happiness," said Curran. "We are proud to enhance this brand promise with our sustainability efforts – helping our customers meet their goals through our suite of printed packaging solutions."
Emphasized in Nosco's 2023 Calvin Frost Sustainability Award submission were the company's environmental, health and safety efforts, long-term sustainability goals and sustainable product innovation highlights.
Following the awards, Linnea Keen, TLMI President, reported to Label and Narrow Web that TLMI is proud to honor this year's winning companies for their "unwavering commitment to excellence" in the label and packaging sectors. Organizations honored this year include Amherst Label (Trailhead), Maxcess Rotometrics (Trailhead), AWT Labels and Packaging (Journey), Siegwrk (Journey) and UMP Raflatac (Elevation).
Nosco's acceptance of the TLMI Elevation Converter Award serves as a testament to the company's commitment to sustainability and innovation, further solidifying its position as a leading provider in the printed packaging industry.