Earlier this year, Rotzinger Group announced its collaboration with packaging partner, Nosco, to bring to market – Eco | Save | Pack. This innovative pharmaceutical folding carton brings together a variety of sustainable, modular and efficient components to achieve:
A recyclable paperboard solution that eliminates plastic
Interchangeable inlays to protect fragile and critical products
Machine-optimized components sourced from a single supplier
As leaders in the pharmaceutical and packaging industries, both companies are teaming up to bring an even more comprehensive range of cutting-edge technologies to the pharmaceutical and confectionery industries at Pack Expo in Las Vegas, Nevada. Rotzinger Group, who announced its Pack Expo attendance in July of 2023, will exhibit at the show in the South Upper Hall of the Las Vegas Convention Center in booth SU-7113. During the show, the Rotzinger team will highlight its leading packaging machinery, including the launch of the Delta Robot, powered by GEMINI 5 HMI.
Through their partnership, Nosco, known in the industry for its worry-free packaging solutions, will showcase its expertly engineered Eco | Save | Pack components, which run effortlessly on Rotzinger's cartoning machinery. Together, both Rotzinger and Nosco will combine their experience, expertise and technological advancements to provide show attendees enhanced and integrated solutions that meet the evolving demands of the industry.

WHAT TO EXPECT
At Pack Expo 2023, attendees will witness the synergies of Rotzinger and Nosco firsthand. From state-of-the-art processing technologies to advanced packaging designs, the team's collaborative efforts will offer a holistic approach to addressing the challenges faced in today's market. By bringing together their strengths, the team aims to streamline operations, optimize efficiencies and drive advancement for their customers.

WHY ATTEND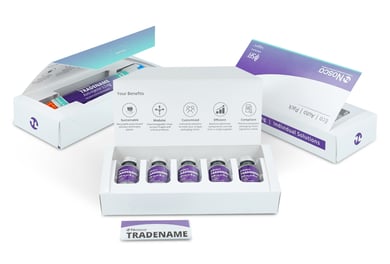 Integrated Solutions: Discover the seamless collaboration between Rotzinger and Nosco's packaging and processing solutions.
Live Demonstrations: Witness a showcase of Rotzinger and Nosco's combined capabilities – live, and gain insights into how their technologies can transform operations.
Networking Opportunities: Connect with industry experts, professionals and thought leaders to help push new solutions forward.
The partnership between Rotzinger and Nosco represents a significant step in revolutionizing processing and packaging solutions for the confectionery and pharmaceutical industries. The team looks forward to welcoming attendees at Rotzinger booth SU-7113 this September at Pack Expo 2023.
For more information and to stay up to date on partnership developments, visit: Rotzinger-Group.com and Nosco.com.


ABOUT ROTZINGER
The Rotzinger Group emerged from Rotzinger AG in Kaiseraugst, Switzerland. It was founded to federate the growing number of companies. Currently, eight companies with their own products belong to the Rotzinger Group: Autexis, Demaurex, Hansella, MF-Hamburg, Packfeeder, Rotzinger, Rotzinger PharmaPack and Transver. Some of their respective histories go back a long way. Hansella, for example, was founded in 1921, while Rotzinger PharmaPack's oldest predecessor company was founded as early as 1861. Since 2022, the Rotzinger Group has also had its own sales and service company in the USA. Rotzinger Group is part of Fourtec, a family of four friends, all in senior management positions. The group employs nearly 500 people worldwide at locations in Switzerland, Germany, Spain and the USA. The headquarters of the Rotzinger Group is located in Kaiseraugst, Switzerland.


ABOUT NOSCO
Nosco is a full-service packaging solutions provider serving over 400+ customers in the healthcare space. With more than 115 years of experience, Nosco brings together business resources and technical expertise to better understand packaging challenges and deliver customized solutions. The company focuses on service to help continuously improve efficiencies related to supply chain, cycle times, lean initiatives and product launches.
Nosco is a subsidiary of Holden Industries, Inc., and is 100% employee owned. The company employs 650+ employee owners, and specializes in printed packaging for the pharmaceutical, natural health, personal care and CPG markets with four core product lines: cartons, labels, inserts and flexible packaging.