GURNEE, IL – November 18, 2020 – Nosco, Inc., a subsidiary of Holden Industries, Inc., announced today plans to open a new site in Pleasant Prairie, Wisconsin in the spring of 2021. The new facility will provide offset cartons, digital labels, and serve as the corporate headquarters for Nosco. The site will also house Nosco's Graphic Services, Solutions Engineering and the administrative staff.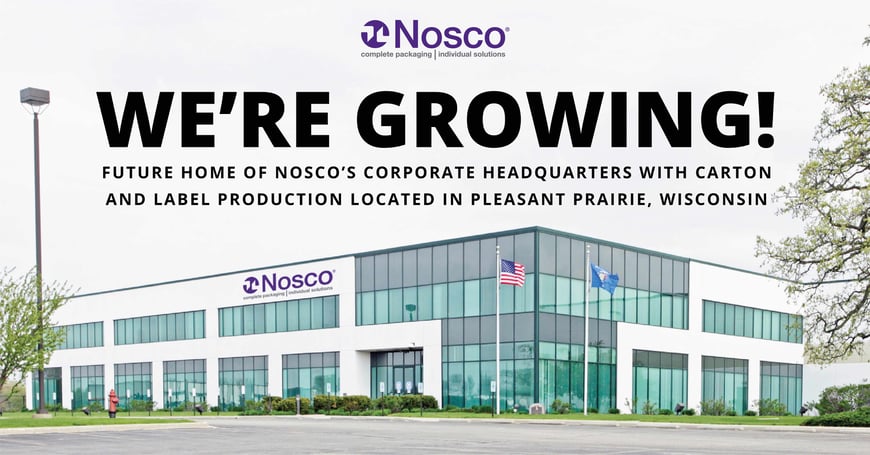 "We're excited to launch this new site to serve our customers even better," said Craig Curran, Nosco President. "It has been a long journey to find the right place for Nosco's future, but we are certain this location will set us up for growth and success moving forward."
Located along the I-94 corridor, the 170,000-square-foot facility is situated in the heart of Pleasant Prairie's Lakeview Corporate Park – centralized between the Chicago and Milwaukee metro areas. It will be home to nearly 300 employees.
Nosco's Gurnee and Bridgeview, Illinois facilities will remain operational throughout this expansion and beyond to support existing carton, label, literature and commercial print business. Nosco will continue to operate its other facilities outside Chicago in Lockport, New York; Bristol, Pennsylvania; and Carrollton, Texas. Nosco's Waukegan, Illinois site will close in 2021.
The addition of the new facility will build on Nosco's existing regional packaging operations, while allowing for:
An enhanced customer and employee experience.
Supply chain efficiency and operational flow.
Workforce consolidation and development.
Facility optimization and automation.
Preparations for the new flagship facility and corporate headquarters are already underway, and final moves are slated for completion by July of 2021. The building is located at 11200 88th Avenue, Pleasant Prairie, Wisconsin.
For more information about this announcement, or to learn about open career opportunities at Nosco, please contact Lisa Thompson, Director of People Operations at recruiting@nosco.com.
About Nosco
Nosco is a full-service packaging solutions provider with a vested interest in the long-term success of its 400+ customers. With more than 110 years of experience, Nosco brings together business resources and technical expertise to better understand packaging challenges and deliver customized solutions. The company focuses on service to help continuously improve efficiencies related to supply chain, cycle times, lean initiatives and product launches. Nosco is a subsidiary of Holden Industries, Inc. and is 100% employee owned.
Media Contact
Ashley Diehl, Copywriter | Nosco
(847) 360-4989
adiehl@nosco.com