Nosco is now providing an end-to-end solution for personalized/customized products and packaging through the launch of our new brand, Sonder!
---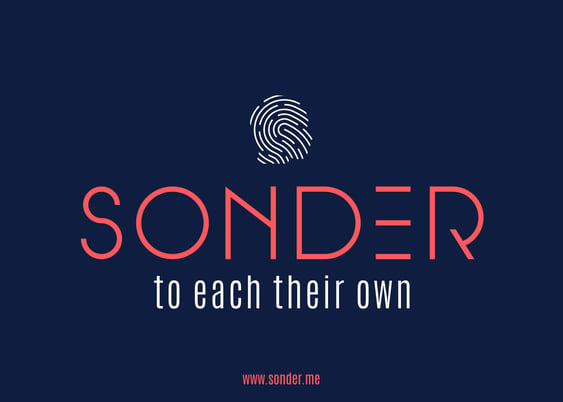 ---
As a first in its industry, Nosco, a full-service supplier of printed packaging, has launched a new brand named Sonder. Sonder is a conglomerate of three companies that have come together to offer personalization/customization programs in order to help brands build, launch and promote hyper-customized products and packaging systems for their customers. Deemed "The world's first personalized packaging supergroup," Sonder is a brain trust of experts from three companies – Nosco, Akavit and LCP Complete – formed to create the best turn-key product personalization offerings on the market.
Sonder refers to the phenomenon that occurs when you see a stranger walking down the street and realize that person is living a life "as vivid and complex" as your own. Everyone has an unique story to tell, and this aptly named new brand gives companies a chance to tell theirs.
Individualization in consumer products carries more weight than ever because today's consumers crave the ability to personalize products that enrich their lives. According to Mintel, there's a parallel path between brands striving to engage consumers on a more personal level and consumers' expectations for packaging to deliver that experience. With 1 in 5 U.S. Millennials seeking custom or personalized packaging[i], there is an opportunity for companies to connect with this growing consumer force and gain insights about shopper preferences, in real-time, by offering customization/personalization options.
"Nosco is excited to be the first company to truly provide an end-to-end personalization solution through Sonder. Sonder's solution connects your brand with your customers in new ways through our various personalization programs," said Craig Curran, VP of Sales and Marketing for Nosco. "The combination of printed packaging, e-commerce solutions, and order fulfillment expertise enables Sonder to provide personalized programs to companies that want to drive sales and increase ROI."
Sonder's mission is to empower brands to offer the ultimate version of their products to customers by getting personal with packaging and products. This product strategy offers companies three main benefits: profit, evangelism and customer loyalty. In addition, Sonder clients have an easier way to develop customized products and packaging instead of having to source multiple suppliers. Sonder provides three services in one company – and one purchasing order – giving clients a comprehensive, hassle-free solution. Sonder clients also have access to some of the best talent and technology in the world for creating customized products, including visual designers, strategic creatives, and digitally-printed packaging and fulfillment experts leveraging industry-leading HP Indigo digital printing technology.
"After working on several personalized packaging projects, we recognized the need for online customization and order fulfillment services. As a means to provide a full-scale custom packaging solution, we partnered with Akavit, a digital marketing agency that specializes in web-based mass customization, and LCP Complete, an agile and experienced fulfillment provider that effectively tracks and ships orders of any size," said Mindy Wherley, Brand Strategy Manager for Nosco. "Their experience in this space is unmatched and we are thankful to partner with them to serve our customers."
"By joining forces with Nosco and LCP Complete, both leaders in the mass customization and product personalization space, Akavit adds the extensive online customization experience needed to make Sonder a complete solution," states Rob Davis, CEO of Akavit. "Together we can provide the best possible end-to-end personalization offerings to some of the best brands in the world."
"Our credo at LCP Complete continues to be; every job is custom, and every customer is unique! This serves our clients well and fits perfectly into the Sonder model of creativity, customization and delivery. We develop and execute customized fulfillment and delivery solutions that fit our customer's needs. We are excited to be the part of Sonder that ensures the highest quality finishing and distribution of your products," states Mark Hammel, Mailing/Fulfillment Manager for LCP Complete.
For more information about Sonder, visit www.sonder.me, attend our 2017 personalized packaging educational event in Chicago, or invite us to your company for a personalized experience.
Akavit specializes in creating online solutions for brands that want to engage with their customers and enable users to design, share, and purchase personalized products. Akavit's online product customization portfolio is broad and includes the development of the first Tervis Customyzer, which allowed users to create their own fully-customized Tervis drinkware online with a 3D rendered preview of their own product. The results are impressive and Tervis is very satisfied with both the results and the sales. For more information, visit www.akavit.com.
LCP Complete is extremely responsive and able to solve unique business challenges. They seamlessly integrate with best-in-class applications when it comes to fulfillment. For large companies with limited warehousing space, personnel, and resources, LCP complete provides the perfect solutions to help increase efficiencies and reduce operating costs. Their inventory management program will ensure your brand's products are ready whenever you are. For more information, visit www.lakecountypress.com.
Nosco serves as the packaging design and printing solution as well as the hub that brings together this dynamic trio, delivering the quality that its clients have come to expect. Whether you are looking to deploy your personalized packaging via online or retail, Nosco has the equipment and experience to ramp up immediately to meet your needs. Their expertise in digitally printed packaging with HP Indigo Digital Presses, paired with the use of HP Mosaic software, allows brands to personalize the images, text and colors on any label, carton or flexible packaging more efficiently and at a lower cost than conventional printing. For more information, visit www.nosco.com.
[i] http://www.mintel.com/press-centre/retail-press-centre/mintel-announces-six-packaging-trends-set-to-impact-global-markets-in-2016-2
---