In March of 2020, Mary Kay announced that it would dedicate a portion of its global supply chain to producing essential products amidst several worldwide supply shortages. To do so, the company refocused its global manufacturing efforts on the production and donation of personal care, hygiene and hand sanitizer products.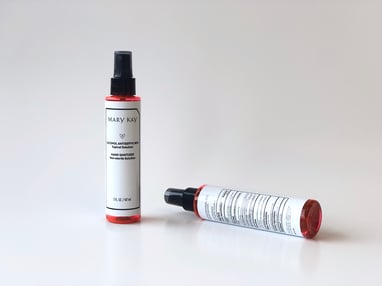 Mary Kay called on Nosco to assist in these efforts with a simple, quick-turn label solution for their 5 oz hand sanitizer spray bottles. Nosco came through, completing the project in just four days (utilizing readily available standard materials).
WHY NOSCO?
The COVID-19 pandemic took the world by storm, and Mary Kay knew its response needed to be just as strong. Thanks to an existing longterm partnership, Mary Kay trusted Nosco to understand the company's needs and provide a quick turnaround on labels.
To date, Mary Kay has donated hundreds of thousands of hand sanitizer units to various first responders, health systems and relief organizations across the globe.