In addition to our new facility in Pleasant Prairie, Wisconsin, Nosco is excited to announce new equipment additions for 2021! As it stands today, Nosco has plans to purchase the machinery outlined below to support its customers with best-in-class products and services.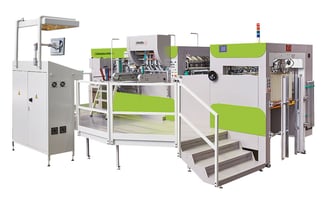 Brausse Eterna Hot Foil Stamper / Diecutter
This new hot-foil stamper and diecutter will help grow Nosco's capabilities at the Bridgeview, Illinois facility by processing up to 7,500 sheets per hour, as well as:
Adding flexibility and updated technology (the machine can be used as a foil stamper or a diecutter).

Allowing Nosco to offer holograms in register to help provide both security options and decorative effects.



MBO Folder
Nosco plans to add the MBO as its first folder at the Carrollton, Texas facility. Purchased to support our growing folding line needs, the machine offers:
An unwind unit for roll-to-sheet converting.

Plow-folding and parallel folding capabilities.

Vertical stacking and incline batch counting for accuracy and ease of use.

Interested in learning more? Click here to get in touch with Bill Weernink, Nosco's General Manager of Strategic Initiatives.