The demand for enclosures at Nosco is at an all-time high, pushing out order lead times and creating delays across the board. Interestingly, it's not just one type of folded insert exhibiting unfavorable lead times, it's across most fold styles – averaging 25 to 43 days.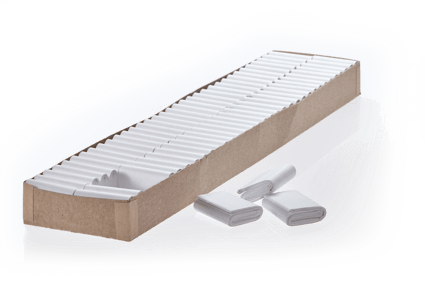 As you may know, Nosco targets a four week lead time for all insert types. To keep our production schedules in line with this, our planning and production teams consistently juggle orders to prioritize and get enclosures out in a timely manner.
Overall, we believe we will sustain this increase in demand for our enclosure value stream, and thus have put a plan in place to increase internal production capacity to meet this new norm. To accomplish this, we have started level- loading production between our hub and spoke sites by 'anchoring' key pieces of business at our Lockport, New York manufacturing facility.
In addition to this, several automation projects are being kicked off to allow us to increase productivity. This is being done on our current asset base as a focused effort to meet and beat our historical-best folder run speeds. Of course, we are also gearing up for this sustained increase in demand by onboarding new employees throughout our enclosure business.
Nosco knows Time Matters, and we are committed to getting our lead times down. This is an important initiative for us and with the hard work of our team we know we can accomplish this goal. We appreciate your patience as we ramp up capacity to achieve that goal. I look forward to updating you on the progress in the near future.
CHRIS RAUSCHER
Director of Operations, CVS & EVS
CRauscher@nosco.com