This article by Patrick Henry was featured, in part, in the January 3, 2020 edition of Printing Impressions. Patrick is a Senior Editor at NAPCO Media, and writes for In-Plant Graphics, Printing Impressions and Packaging Impressions.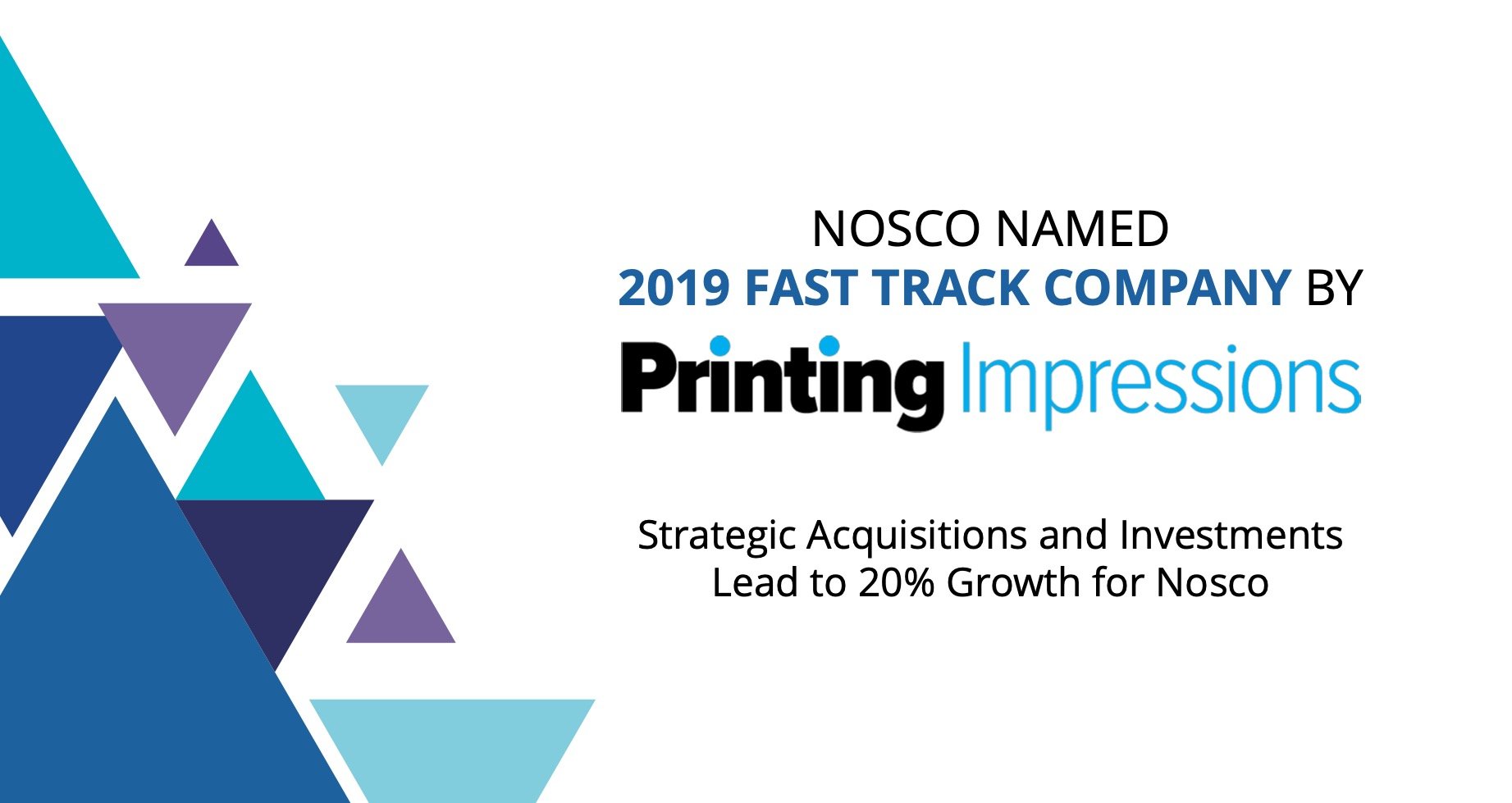 Topping the annual honor roll of the Printing Impressions 400 are its "Fast Track" companies: those with significantly higher rates of year-over-year revenue growth than the majority of other listees. One of the six exceptional strivers are profiled here.
We salute the Fast-Track companies and to all of the other enterprises joining them on the 2019 Printing Impressions 400 list.
NOSCO, GURNEE, ILL.
Most Recent Fiscal Year Sales: $115 Million
Previous Fiscal Year Sales: $96 Million
Percentage Growth: 20%
Established in 1906, packaging specialist Nosco has a four-state, six-plant footprint, and a workforce of 650 employees who have owned the company through an ESOP since 2007. Nosco's president, Craig Curran, attributes its recent growth both to acquisitions and to significant investments in digital print for packaging — an activity that now accounts for 50% of its orders.
The growth-driving acquisitions, both announced in 2017, were Knight Packaging Group, a Chicago-based offset folding carton printer, and Gooding Co., a Buffalo, N.Y., insert and outsert manufacturer. Curran says they helped to expand Nosco's capabilities in labels, cartons, inserts, and flexible packaging for its primary markets, which are pharmaceutical, natural health, and personal care.
As a packaging organization, Nosco has made an exceptional commitment to digital printing, which, although it continues to grow, still accounts for only small percentages of overall packaging output. According to Curran, some would say that Nosco is the only supplier in North America that prints everything — labels, flexible packaging, and folding cartons — digitally. This takes place at three of its six plants along with digital printing for security and serialization, which he calls growth areas for the company.
Another is flexible packaging. "We're all in on flexpack," Curran declares, pointing to Nosco's 2019 installation of an HP Indigo 20000 — a digital press designed specifically for that application. Supported by a Pack Ready Lamination System from Karlville, the press is being used for short- and medium-runs of flexible products such as pouches, stick packs, sachets, and blister lidding. It operates alongside an HP Indigo WS6600 label and packaging press at Nosco's Carrollton, Texas, facility.
Also added in 2019 at the company's headquarters plant in Gurnee, Ill., was an HP Indigo 8000, a dual-engine press for longer runs of digital labels. All told, says Curran, Nosco has eight HP Indigo liquid-toner EP presses at its disposal, accompanied by "tons of converting equipment for brand enhancement and security."
Curran expects Nosco's digital output to increase, but not by virtue of equipment alone. This is why the company has launched an initiative called "Time Matters," a program aimed at assuring that all of its resources are being used in the most expeditious manner possible.
Time Matters, he explains, measures responsiveness: not just to delivery deadlines, but to all of the preliminary milestones that have to be met before the ship date can be honored. This means clocking things like the preparation of CAD drawings and proofs, and the presentation of price quotes — whatever steps have to be taken so that the process as a whole can move ahead swiftly. The objective is to accomplish all of them within 24 to 48 hours of starting a job.
Innovation like this, according to Curran, is the company's strongest competitive suit as a packaging provider. Helping to create it is a staff of 10 packaging engineers who work with the sales teams to devise tailored solutions for Nosco customers.
Another strength lies in being an ESOP organization. Nosco owes its track record of consistently delivering high levels of quality and customer satisfaction to the dedication of "employees who care, because they're owners," Curran declares.