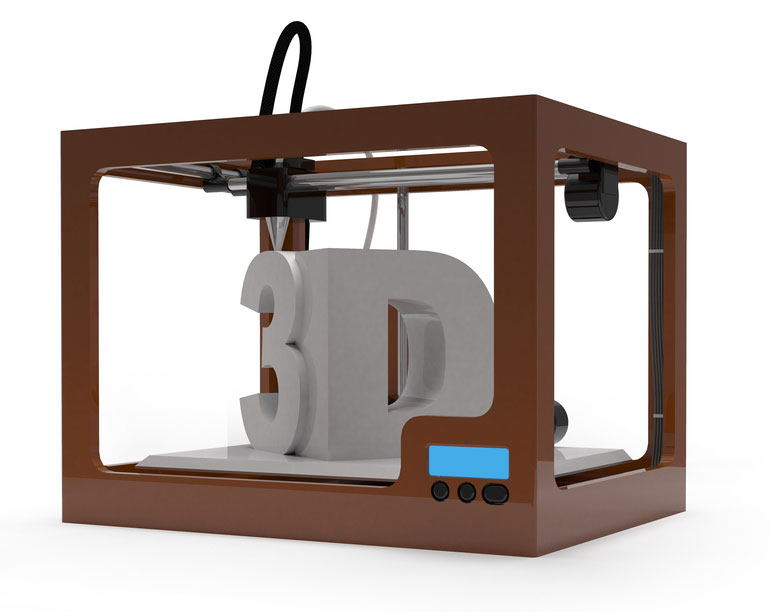 When 3D printing first came on the scene, it seemed like the future had finally arrived. The significant expense required to purchase a printer also created a barrier for the usefulness of the technology. Now, 3D printing is put to use in all kinds of surprising ways, and its adoption is growing rapidly.
What is 3D printing and who's doing it?
Also called "additive manufacturing," 3D printing operates similarly to an inkjet document printer. It has also been compared to a hot glue gun. The process allows users to make a solid object from a digital file. A three-dimensional object is created by putting down layers of material. A design is created with computer-aided design or a 3D scanner and then printed in three dimensions.
According to data cited by Packaging Digest, the market for this technology is set to reach $20 billion by 2025 and the economic impact could be $550 billion each year by 2025. In other words, the potential impact of this technology is huge, and companies are starting to take notice.
Research from PriceWaterhouseCoopers revealed that 66.7 percent of manufacturers are adopting 3DP in some capacity. Within the next three years, 24.7 percent plan to adopt 3DP for some kind of use. Only 9 percent reported they had no plans to use 3DP in any way.
So, what's the big fuss about? As 3D printing reaches wide scale adoption, it's become clear that this technology will have a significant impact on product development in many different industries, including printing and packaging.
"The sweet spot for 3D printing is where the complexity of the object to be printed is high and the volume is low," Packaging Digest quoted David Macfie of Cimquest as saying at a presentation during Pack Expo East.
What's the benefit of 3D printing?
Its No. 1 application? Faster prototyping. When a product is being developed, prototyping is a vital stage in the process to ensure that a design is functional in the real world and allows manufacturers to see what needs to be altered in the final product. However, it can sometimes be a time consuming process.
Some companies are already using 3D in this way. Stratasys, a 3D printing company, wrote about how Unilever uses its technology to speed up the process of prototyping. The Italian division of the company cut lead times for prototype parts by 40 percent using 3D printing technology. Previously, the company needed to wait weeks to receive prototype parts. If adjustments were necessary, lead times would increase more, adding additional cost.
3DP allows manufacturers to prototype more quickly and effectively. This process is useful in the printing and packaging industry as well. The need to prototype quickly is ongoing in many industries. Packaging is no different. 3DP would allow packaging designers to quickly create a tangible prototype of a design and speed up time to market.
Where 3D printing fits in
3D printing is just another step in a technology revolution that is leading to more efficient manufacturing and production. It's particularly useful when used alongside other technology and processes that contribute to leaner manufacturing and more efficient processes. Digital Printing, for instance, was another gigantic step forward in printing and packaging technology, allowing companies to work toward just in time manufacturing by ordering shorter runs at lower costs and even personalize product labels.
According to PWC's survey, companies foresee that 3D printing will change industries even more dramatically. For instance, 70 percent of companies surveyed believe that 3D printing will soon be used for obsolete parts and 57 percent believe it will be used for after-market parts. All in all, it could make a huge impact on manufacturing.
The future is bright in the manufacturing world, and it's exciting to think about other innovations that could disrupt this environment and increase efficiency for manufacturers.