Nosco is proud to announce its winning entry in the HP and Dscoop Inkspiration Awards for printed security features on Isagenix International's cartons, labels and multi-panel labels. Through this award, Nosco and Isagenix International are being showcased among the best work from organizations utilizing HP Indigo Digital Print Technology.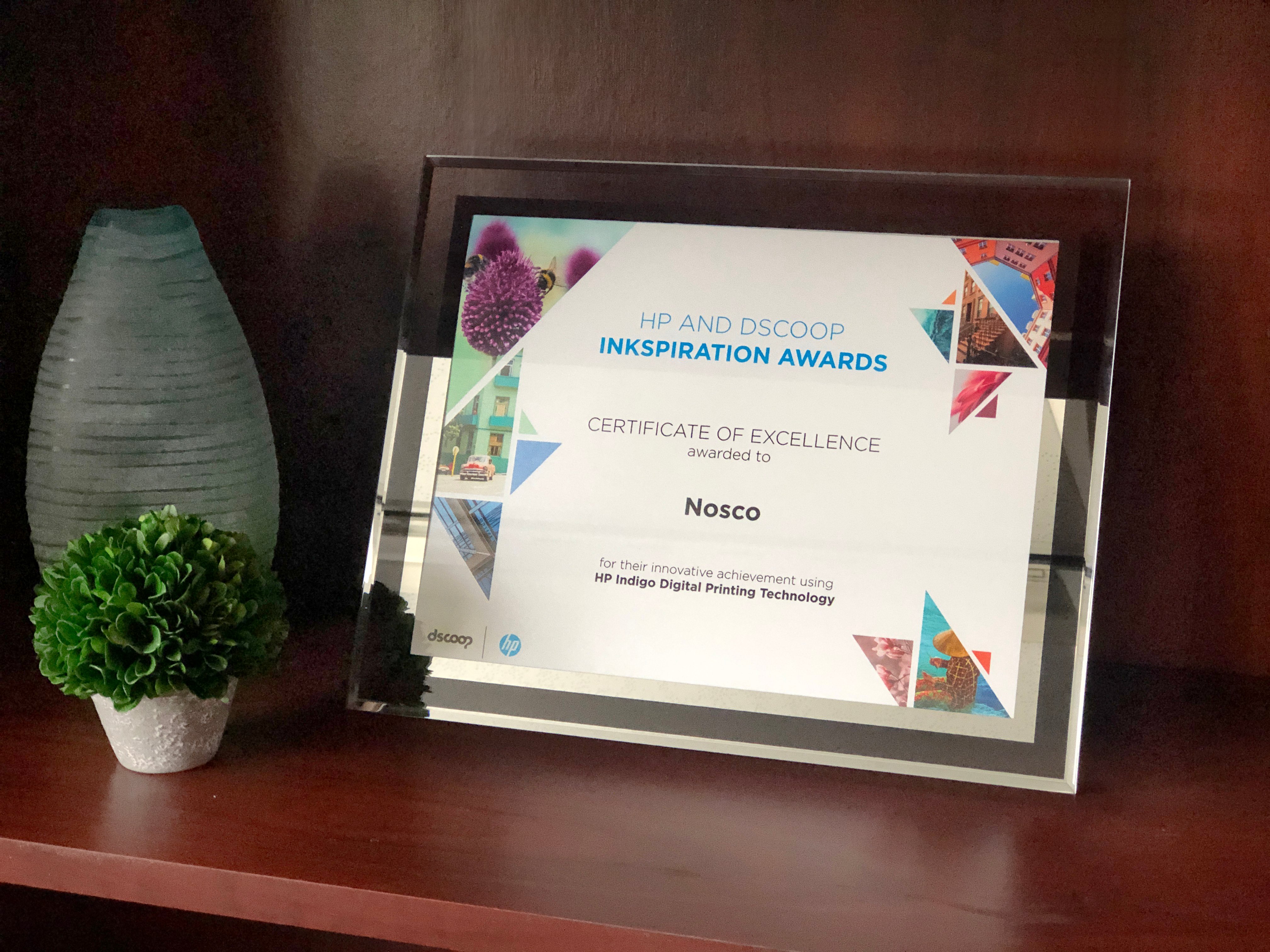 Photo: Nosco's Certificate of Excellence from the HP and Dscoop Inkspiration Awards
The HP and Dscoop Inkspiration Awards were recently held at Dscoop Edge in Orlando, Florida. These awards work to showcase the best work from HP customers – celebrating the ways in which they push the boundaries of what is possible in the digital print world. All in all, Nosco's submission was recognized as the top security entry from a total of 75 finalists across 12 print categories during a live voting session.
Through the submission, Nosco highlighted various Isagenix products utilizing serialized 2D data matrices and variable barcodes. These security features were put in place for track and trace capabilities during the company's latest market launch in South Korea.
"We appreciate Nosco's partnership and are glad to see the company recognized," said Angela Gabriel, Isagenix's Sr. Public Relations Specialist in response to the recognition.
ISAGENIX'S SERIALIZED PACKAGING CAMPAIGN
Every year, over $1 billion worth of product is diverted in the marketplace, impacting thousands of businesses. In fact, no matter the sales model, product diversion has the ability to cause channel erosion and lost sales.
To combat these issues, Isagenix and Nosco entered into a strategic partnership, allowing the two companies to continue their leadership in the market through:
The incorporation of multiple languages and serialization features
Digitally-printed packaging components
Strengthened product diversion efforts
Isagenix's packaging components were printed utilizing the HP Indigo 30000 Digital Carton Press, and the HP Indigo 6600 Digital Label Press.