Get ready to "show and sell" with Nosco's latest packaging innovation, StretchPak. Adding to our current portfolio of industry-leading folding cartons for the healthcare industry, this blister pack and clamshell alternative maximizes product display area and offers an ultra-tough enclosure. Sounds great, right? Right. Now let's get to what you need to know: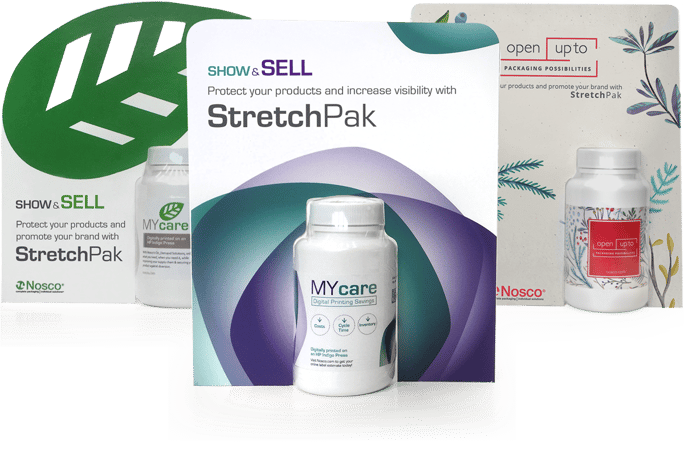 IT'S A BILLBOARD FOR YOUR MARKETING MESSAGES
One of the biggest packaging challenges we see is space. There never seems to be enough copy or marketing space with standard commodity packaging. That's why marketing teams love StretchPak. Its unique card and film combination allows you to augment your brand's presence, while providing 360° product visibility. In other words, it gives them real estate and visual dimension to connect to the consumer in a split second. Plus, its tamper-proof design safeguards contents and its secure windowing protects your products from contaminants by forming to unique shapes and sets – ensuring your product and its label will always look pristine.
One of our favorite aspects of StretchPak is its versatility. Its unique construction allows for many decorative enhancements like foil stamping, UV coating, embossing and more. Don't you wish your product's packaging could do all that?
A CUSTOMIZABLE TURNKEY SOLUTION
StretchPak is a multifaceted product, ideal for mass retailers and end-of-aisle POP displays. It's great for new product rollouts and multipacks, and can be used to sell even the most high-end consumer products. Because of this, we're able to offer several product placement and configuration options to meet nearly any need.
StretchPak Configurations
Need a custom configuration? No problem. Our Solutions Engineering team is on standby.
TRUSTED FULFILLMENT CMOs
Finding a quality contract manufacturing partner can be tough. That's why we've put together a team of trusted CMOs to help with the fulfillment of your StretchPak products. These CMOs have extensive filling and packaging experience and are some of the most reputable companies in the business.
Prefer to do it yourself? That's okay too! We will help steer you in the right direction fulfill in-house or out.

DEDICATED MANUFACTURING ASSETS FOR StretchPak
Nosco has several state-of-the-art printing and manufacturing assets specifically for the launch and production of StretchPak. These assets allow us to:
Print and apply stretch film in our own plants right here in Chicago
Add decorative features, including specialty coatings, foil stamping, embossing, serialization and more
All of these components will help your product stand out on the shelf, allowing for increased revenue and business growth.
If you are interested in exploring how StretchPak can benefit your brand, contact a Nosco Packaging Advisor today. We would be happy to show you samples, help you design something new and walk you through the entire process.
Click here to get started.